Need A Google AdWords Agency?
Be careful who you choose. As Google Premier Adwords Partners, we understand how to optimize campaigns for growth.
PPC Campaign Management Services
We all know that increased traffic results in more leads, which ultimately results in more business. It is not nearly as difficult for any company to determine the appropriate budget for a PPC campaign to get the desired return on investment. Start working with us today to learn more about how our PPC Management Services may help you increase profits and leads!
We have nailed the optimal formula for curating a successful winning PPC campaign as a premier PPC management service. Your search for continuous and controllable traffic can be ended with our Pay Per Click services. You can also optimize the success of your ad campaigns while increasing the returns on your investment.
What is Google AdWords, and how does it work?
Are you familiar with terms like PPC (pay per click), paid marketing, Google AdWords, CPC, and bids? Do you know what they mean? If that is the case, don't worry, We will let you know. Google AdWords is a paid marketing service offered by Google that is available to anybody. Ecommerce companies utilize this platform to promote their products and services on Google search result pages, Gmail accounts, YouTube, and other websites that are participants in the Google AdWords program, among other places.
In exchange for traffic, they get to their website in this manner (cost per click) from consumers who view advertisements (impressions) and click to specific product or service pages. The whole AdWords system seems to operate in the manner of an auction, with advertisers bidding for the top positions of their Ads.
What is the purpose of Google AdWords?
Promote your company's goods and services outside of Google search, including via other Google products, partner websites, and display networks.
Advertisements may be modified at any moment to target a particular group of individuals or to promote a product or service.
You begin receiving targeted visitors as soon as you launch an advertising campaign, which occurs in the shortest amount of time.
At the same time, you may target several keywords.
Specific criteria may be met in order to place your ads at the top of the search results more quickly.
There is no minimum spending requirement for advertisements, and you may select and modify your budget at any moment.
 You may make adjustments to keywords, ads, ad groups, and budget at any moment and see the results in minutes.
Returns on Investments are simple to calculate, and you may adjust your budget as needed.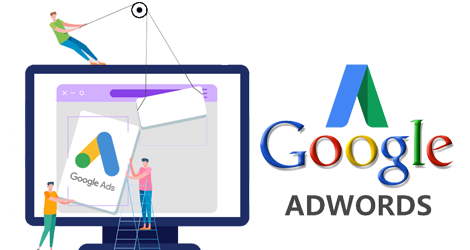 When it comes to Google AdWords Services, why should you use wide web technology?
If you are utilizing Google AdWords to make your internet company more visible, what are your objectives? Have you spent a lot of money and yet haven't seen the outcomes you were hoping for? Don't simply repeat the process; instead, get the help of a qualified Google AdWords expert to eliminate money waste, make every cent spent worthwhile, and generate high-quality and potentially profitable visitors to your website.
Rather than increasing spending, we concentrate on generating valuable traffic from the expenditure that will result in actual benefits in a short period. By leveraging the billions of searches performed on Google every day, we ensure that prospective consumers see your goods via our efforts and customer care. Better AdWords management requires a great deal of knowledge and skill, which not every company has access to or the time to devote to it. Up to this point, we have worked with a wide range of organizations, ranging from start-ups to big corporations, and have delivered proven outcomes with a 100 percent success rate. No need to spend money and time when you can use the skills of Wide Web Technology to do the task for you!
The following are some of the Google AdWords services we provide:
Keyword research and selection are essential steps.
Research in a competitive environment
Ideas for text and picture advertisements to help you improve your landing pages
Management of PPC costs
 PPC (Pay Per Click) Monitoring
Modifications and enhancements to advertising campaigns
Tracking of conversions
 Reports are issued on a monthly basis.
Wide Web Technology is everything you need to create an awesome Online Presence!