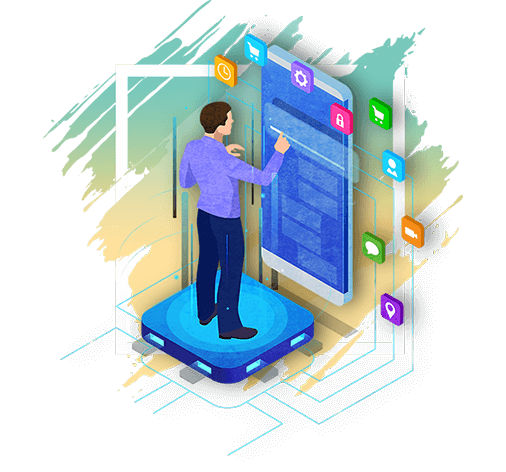 We at Wide Web Technology are well aware of the significance of excellent design in achieving success in the digital world. Our designs put people first, are visually attractive, and are pleasant to look at, which meets the requirements of contemporary companies and enterprises. With the newest tools and technology, we provide complete UI/UX services that include branding, responsive site design, mobile app design, user experience consultancy, and promotional graphics.
By using a unique combination of contemporary technology and cutting-edge methods, we develop responsive and adaptable designs that are uniformly compatible across all platforms. As designers with more than two decades of expertise, we are well-known for our creative enthusiasm and hands-on knowledge in all areas of user interface and user experience (UI/UX).
We understand what it takes to create a brand from a design viewpoint, and we can assist you in doing the same utilizing contemporary technologies and methods of thinking. Contact us now. We assist our customers in thriving by simple designs that have a long-lasting effect on the minds of its consumers, which in turn increases brand recognition and loyalty for the company.

High-fidelity Prototype
To illustrate the behavior of the program and explain how it would function in real life, we build a prototype of the application. We create fully interactive prototypes to give you a sense of how your project will function in the real world.
Wireframes
Wireframes are used to give you an overview of a mobile or web application by showing the information, structure, and functionality that will be present on the pages of your app or piece of software.
Mobile & Web User Interface Design
We put out our best efforts to ingeniously transform your ideas and thoughts into a clear and utterly functioning design that meets your requirements. We create user interfaces that are responsive to the needs and understandings of the users we serve.

Cross-Platform Compatibility
By concentrating on the fundamental concepts of user interface design and functionality execution, we create and deliver responsive and cross-platform compatible designs that guarantee that they operate across various platforms.

Technical Design
In addition, our team can develop a technical design that will assist our customers in understanding the technical process of the project in question. During technical design, we describe the technology stack used by all of the app's components, including third-party integrations and interactions between services and APIs.
Software Redesign
If you currently have an app or a website, but it does not seem visually attractive or professional, we may assist you by completely redesigning the website or application. Following an evaluation of your app and a knowledge of your customers, we design your program to be visually appealing and appealing.
Our approach to delivering UI/UX Design Services
may be summarized as
Analyses and research on the market: We begin the user experience process by gathering, evaluating, and establishing requirements better to understand the wants and goals of the users.


Concept Presentation: This section defines the project's key characteristics and builds its information architecture to showcase the project's conceptual framework.


UI/UX Wireframes: Wireframes for the User Interface and User Experience. We create a prototype of the whole app or website's structure, showing what information should be shown on the app's pages.


Fully Functional UX/UI: Once the customer has approved the wireframes, we will design and develop an utterly functioning UI/UX for your application.


Testing of Prototypes: We provide customers with the opportunity to test UI/UX designs' functioning at an early stage before final designs are created for them.


Front-end Development: Once the designs are complete, they are transferred into the front-end development phase of the project.


UI Testing Process: We do a thorough examination for faults and mistakes and provide suggestions on improving the efficiency and functionality of the system.
What distinguishes our UI/UX Design Services
from the competition?
User-centric Approach: We pay close attention to the requirements and demands of end-users to improve the return on investment and the target audience for our customers. Using best practices and industry standards, our talented design team ensures that the design is as user-friendly and efficient as possible.
Decade in Design: We create custom applications for Fortune 500 companies and enterprises with the latest technology and tools. We implement a standardized design methodology to help you achieve the results you seek.
Wide-ranging Expertise: In addition to healthcare, retail, banking, entertainment, insurance, and many more sectors, our design team has developed various applications and software for use in various situations and environments.
Transparent, Communicative and Collaborative: Beginning on the day a project is started, we offer complete project visibility and numerous open communication channels to all parties involved. Every week, we have conference calls with our clients, during which we provide them with progress updates on their projects.
Wide Web Technology is everything you need to create an awesome Online Presence!