Conversion of a Photoshop PSD to a responsive HTML page
Websites have become one of the most effective tools for companies to advertise their products and services, which is generally acknowledged. In contrast, if a website fails to attract visitors and hold their interest, it is considered a waste of resources. To maximize the effectiveness of their websites, website owners are always on the lookout for innovative methods to improve their sites.
PSD to HTML conversion is one of the methods for creating a website that is both aesthetically attractive and engaging. Using this conversion method, most successful company owners can build aesthetically attractive websites and provide cross-browser compatibility.
Allow Us to Take Good Care of Your Website Development.
Adobe Photoshop documents are saved as PSD files, while HTML is a markup language mainly designed to create web pages and is saved as HTML files. Although Photoshop software may assist you in creating aesthetically attractive designs and themes, it is necessary to understand how to make them function on the internet to be effective. When it comes to web design, PSD to HTML conversion is very beneficial. We bring designs to life by providing high-quality, hand-coded PSD to HTML conversion services that adhere to W3C specifications.
From our humble beginnings as a basic PSD to HTML conversion company, we've evolved into a powerful team that stays on top of the latest HTML/CSS methods. Our inexpensive staff can assist you with various online services such as PSD to Responsive HTML and PSD to Responsive WordPress, which will allow you to grow your company. We ensure that our code complies with W3C standards, is entirely semantic, is search engine friendly, and is cross-browser compatible. Our two primary services are as follows:-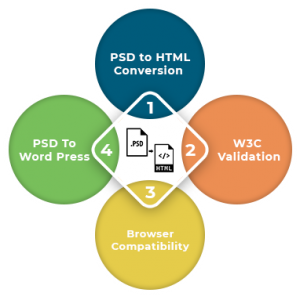 The following are the steps involved in PSD to HTML conversion (also known as front-end development): In addition to creating flexible layouts and Bootstrap-based projects with designs, our staff is also proficient in developing JavaScript features.
The PSD to WordPress Conversion (CMS-Based Development) service provides the following services: While we specialize in WordPress development, we also have experience in Magento, Drupal, and Joomla development and Shopify development, among other content management systems (CMS).
Service Providers For PSD To Responsive HTML Conversion

Pixel Perfect PSD to HTML Conversion
Our team can assist you to transform your well-designed PSD for your future website into high-quality markup in a matter of hours or days. Throughout the process, we adhere to standard design concepts and semantics to provide quick and effective results. In addition to website design, we can assist you with any technical issues that may arise in running your company website.
W3C Validation


We adhere to rigorous design methods while converting your PSD to HTML to guarantee that your website complies with the World Wide Web Consortium standards. We also utilize assessment tools to identify and eliminate any faults or glitches throughout the development process to provide a positive user experience. The presence of your website on the web also benefits from this.

Designed to Optimize
Loading Speed
As a seasoned website design firm, we pay special attention to code optimization, including lightweight frameworks and plugins, minified CSS, and compressed pictures and media files, among other considerations. Because of this, your website's total size is reduced, allowing for quicker loading of your websites and allowing your users to navigate more quickly, even on sluggish networks.

PSD to WordPress
Conversion
To turn your PSD files into fully functioning websites in the most effective way, our WordPress development team has extensive experience. Because we have been working on this CMS for quite some time, we are well-versed in every aspect of the framework and can assist you in bringing your ideas to life and providing an enhanced user experience

Compatibility with Web Browsers
Our PSD to HTML conversion services are dependable, and quality guaranteed, allowing you to achieve cross-browser compatibility and ensure responsiveness across a wide range of displays and devices with ease. Your websites will appear fantastic in every browser, on every device, since we are experts in responsive website design, which we practise daily.

SEO Optimized
Code
With a digital marketing team of experienced professionals working in close collaboration with our design team, we can guarantee that your website is SEO friendly and that you rank highly in various search engines on the internet. When converting your PSD to HTML, we use SEO-friendly markups to guarantee that your website performs better.
Hire a PSD to an HTML conversion specialist
In addition to fulfilling the most rigorous needs of our clients, our team of highly talented, experienced, and creative Front-end Developers also offers the finest PSD to HTML Conversion Services that include a rich user interface. We are focused on providing business value by maintaining viewer engagement. We make sure that our code complies with W3C standards, is SEO friendly, cross-browser compatible, and is entirely semantic.
In addition to creating flexible layouts and Bootstrap-based projects with designs, our staff is also proficient in developing JavaScript features. We also provide content management system (CMS)-based website development, emphasizing WordPress Development. Still, our experience also covers Magento Development, Opencart Development, Shopify Development, and other platforms.
Our uncomplicated user experience is ensured by creating infallible and attractive websites that contribute to increased brand awareness, regardless of the device on which your users access your website. Associating with the finest PSD to HTML converter with years of expertise will help you avoid the difficulties associated with finding the right solution for PSD to HTML conversion.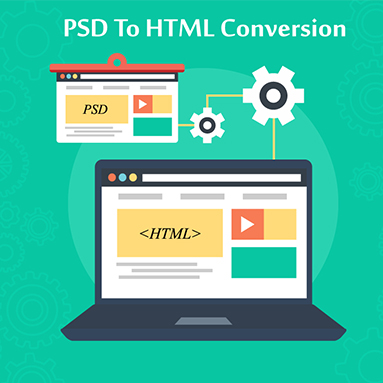 Engaging the services of Dedicated Front End Developers from Wide Web Technology may be a lucrative business decision. They are available to offer services on an as-needed, weekly, or monthly basis, depending on your needs. Our Front End Developers are highly talented, experienced, and creative, and they are great at fulfilling the most demanding needs of our customers and clients. Dedicated to providing the finest PSD to HTML Conversion Services with a rich user interface, these professionals focus on creating business value by keeping visitors interested throughout the conversion process. If you want our team to serve as your Dedicated PSD to HTML Developer, please send us an email, and we will be happy to assist you!!
What is the significance of World Wide Web Technology?
A website's conversion from Photoshop to HTML may provide various advantages, but it is essential to use experts who are knowledgeable in website conversion methods. Web Technology is such an attractive option for business owners because it allows for easy management. Our developers build HTML files using
HTML5 and CSS3
elements and Front End Frameworks such as Twitter Bootstrap, Foundation, and others to comply with the most current technological standards. Hire our Expert Web Developers to obtain cutting-edge
PSD to HTML conversion
with highly professional code that will support the newest and most common browsers, which will save you time and money. When you work together with Wide Web Technology, you will be able to take advantage of a variety of advantages, some of which are mentioned below:
 100% Hand-Coded
Responsive (Mobile compatible) Services
Semantic HTML Coding
W3C Validated
Excellent Returns on Investments
Multi-browser compatibility
Wide Web Technology is everything you need to create an awesome Online Presence!