We provide our clients with world-class Magento eCommerce solutions.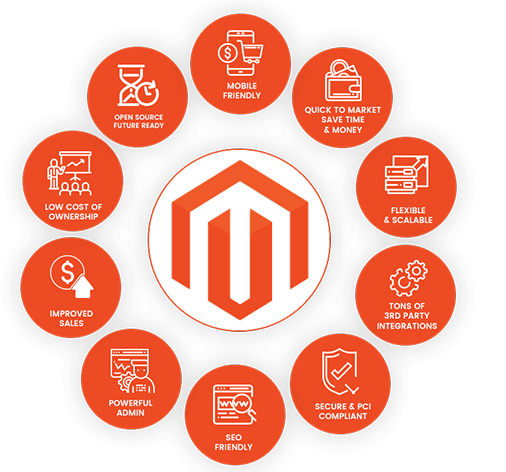 In addition to being one of the most popular and user-friendly eCommerce platforms available, Magento has established a strong reputation for providing superior benefits to online merchants, including increased control over the look and feel of the website as well as a shopping cart system that is highly versatile and adaptable. It is an open-source platform that provides very strong marketing, search engine optimization, and catalogue-management capabilities.
Wide Web Technology is a leading Magento Development Company where you can discover Magento talents at an expert level. Wide Web Technology is a leading Magento Development Company. We aim to offer our customers, strong storefront models through our experience with different Magento versions, such as Magento 1.9 and Magento 2.0.
As a Magento development business, we have a team of Magento certified developers with over 12 years of expertise and a speciality in the Magento eCommerce oriented on the web. As a result, we also provide bespoke Magento web designs.
What are the benefits of working with our Magento Development Company?
Magento provides a specialized platform for Magento enterprise development and interfaces to provide the greatest commercial presence possible on the web. We will design the most famous and effective Magento Enterprise Development models available on the market for your eCommerce development. As a top Magento development firm, we can also assist you in establishing your online commerce presence via our e-commerce development experience.
The Magento talents at Wide Web Technology are at an expert level since the company is a flag bearer and the top Magento Development Company in the world. Our mission is to provide our customers with strong storefront models, and as a result, you may now add and improve features to your eCommerce shop that will increase its scalability. Our Magento development business adheres to conventional Magento development techniques, including the use of the most up-to-date integrated development environments (IDEs). As a top Magento development company, we guarantee timely and satisfactory solutions for all of our customers.
Our cutting-edge Magento Development Services offer the following features:

Custom Magento Web Development
What do you want from a feature-rich and highly customized B2B or B2C eCommerce store? Contact us. The potential of open-source Magento may be explored by our Magento developers, who can provide third-party integrations for Magento CE and EE, ERP and POS integrations with Magento sites, as well as multi-vendor installation and migration services to our clients.

Magento Theme Development From Psd
Are you searching for a Magento theme that may be white labelled for your website? Wide Web Technology is a brand that can be trusted. We can create frontend Magento themes that are highly functional and completely admin controllable from PSDs, AI, JPG, PNG, and SKETCH files, among other formats.

Custom Magento Extension Development
When it comes to Magento extensions, whether you're looking for a simple extension for your eCommerce shop or a bespoke Magento extension to support your SAAS services, we can help. You can anticipate bug-free code that adheres to Magento standards, as well as extensions that have been authorized by the Magento marketplace, among other things.

Customized Website Design
Our team creates passageways for the visitor to have a beautiful and exceptional user interface design, which results in smooth navigation for the visitor to the site. The design is very responsive, and visitors will have a more enjoyable and engaging experience due to it.

Magento Website Management
In addition to providing real-time administration of your website, we also provide the functional improvements accessible via the Magento professional desk. We have a specialized Magento developer team with the necessary knowledge and skills to handle your Magento website effectively.

Payment Gateway Integration
We are aware that the Magento platform supports various currencies; as a result, our staff ensures that the requirements completely optimize your payment gateway integration.

Customized Module Development
Using our custom module development, your eCommerce website would be able to function more efficiently. In addition to Magento 2 customization, we also provide a cost-effective Magento 2 migration solution.

Support and Maintenance
If your clients notice website problems or if you want to alter the theme or style of your website, we are here to assist you in the most efficient way possible. To monitor and improve your shop, our Magento experts will be available around the clock.
Wide Web Technology is everything you need to create an awesome Online Presence!